Floor & Trade Show Displays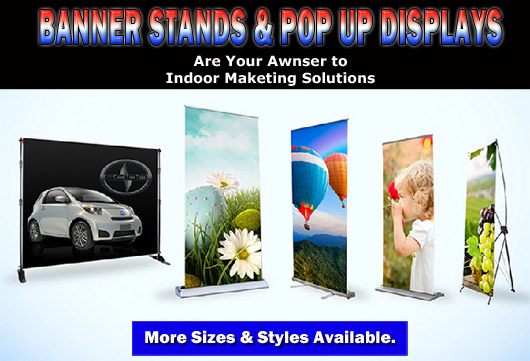 Banner stands have become the most common form of portable display. Being able to easily display a banner virtually anywhere has made banner stands for trade shows a popular option for almost every industry. For years, retractable banner stands for trade shows were the most common style of banner display stands, and that hasn't changed over time. However, because of the wide range of styles and number of affordable roll up banner stand models, they are now popular for more than just trade shows. Banner stands are widely used as retail store displays, advertising for special events, branding, and for directing traffic in airports, shopping malls, movie theaters or outdoor events.
Banner stands can be categorized in four major groups. Retractable banner stands are the most popular because they are so quick and easy to set up and take down. These models have a roller mechanism that holds the banner under tension and retracts the banner back into the base when it's not in use. This category has the most variety of styles and sizes of any of the banner stand categories. Because not everyone has the same needs or the same budget when shopping for display banner stands, we offer a huge variety of styles in every size and price range so that customers can find retractable banner stands for trade shows, store events or promotions that will fit both their needs and their budget.
Portable banner stands, which are those models that are not retractable banners but instead require the banner to be removed and rolled up manually when not in use, are another major category. These portable display banner stands are especially popular for banner walls, since the banners are typically the full width of the stand in this category, so multiple banners can be placed together to form a nearly seamless wall. They are also popular as retail banner stands, since some of the models come with heavier weighted bases that add stability for use in situations where people may bump into them, such as in retail store displays. In a store environment, banner displays tend to get subjected to more contact than exhibition banner stands, so this extra stability is beneficial. Of course, there are many models of retractable banner stands for trade shows that are stable enough for use in a store display, but since the biggest advantage to retractable banners is how easy they are to set up and take down, and store displays tend to stay up longer without being set up as frequently, that feature is not as important. Also, because portable banner stands don't have a retractor mechanism and very few moving parts, banner changes are usually very simple and even inexpensive models tend to be extremely reliable over a long period of time.
X banner stands are a popular category because they contain the greatest number of cheap banner stands that are great for large scale advertising campaigns and branding. This simple banner stand style typically features flexible arms that connect to grommets in the corners of the banner to create tension and hold the banner taught. Since this is the only banner stand style that can hold banners with grommets, they are also popular for customers who are looking for a banner stand to hold an existing banner.
For those who need banner displays for outdoor events, we have a large selection of outdoor banner stands, including outdoor retractable banner stands, feather banner stands, also called flying banners or beach banners, portable outdoor models with bases that can be weighted with water or sand and even giant flag banner stands. These models are specially designed to survive outside in the elements and generally are designed to handle wind, rain and sun, where indoor banner stand would fail or even possibly become dangerous.
Within these groups there are many sub-groupings for things like table top banner stands, which are smaller versions of their full height counterparts, banner walls that are made from combining several regular banner stands together. Of course, we have many accessories for banner stands such as lighting and shipping cases, or complimentary items like table covers and table runners, which makes the banner stands category one of the largest on our site.